Ben Smith jailed for killing baby daughter Mia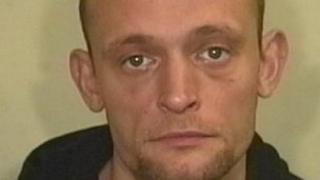 A father who killed his four-month-old daughter when he threw her to the floor in "exasperation" has been jailed for five years at Leeds Crown Court.
The judge accepted Ben Smith, 34, of Netherton Lane, Wakefield, was at the "end of his tether" and acted "totally out of character" when he fatally injured Mia in December 2009.
She suffered her injuries at Worrall Road, Kettlethorpe, West Yorkshire, on 22 December 2009.
Smith admitted manslaughter.
The court heard he had just worked a week of night shifts in a supermarket warehouse when he found himself looking after his daughter when his wife, Amy, was admitted to hospital with shingles.
Smith originally told police that Mia, who suffered from colic, had simply slipped from his arms and banged her head on the floor.
But earlier this week, as Smith was about to go on trial for murder, he admitted manslaughter and this plea was accepted by prosecutors.
He made a statement through his lawyers which said: "In exasperation I threw Mia down to the floor from a standing position."
The judge, Mr Justice Lloyd-Jones, told Smith: "All indications are that you were a loving father."
He added: "I accept that you simply came to the end of your tether in very trying circumstances.
"This is a case in which you lost control of yourself and a case of lack of intent.
"You acted totally out of character. You will have to live with what you've done."