Pontefract 'blue light' and Normanton fire stations open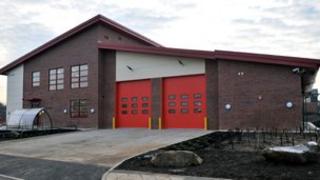 Two fire stations and a £2m combined emergency services complex have officially opened in West Yorkshire.
Fire, ambulance and police will share facilities at the Pontefract station in Stump Cross Lane.
It replaces two stations at Pontefract and Knottingley and is the first of its kind in the county, West Yorkshire Fire and Rescue Service said.
A second fire station at Normanton also officially opened following a £1.7m redevelopment.
Chief Fire Officer Simon Pilling said the 'blue light' station would improve response times and be cost-effective.
The Normanton fire station on Princess Street was built on the site of an old facility. A nearby house has been converted to provide accommodation for five firefighters.
Both stations include two fire engines, a gym, recreational area and meeting rooms, as well as a training tower for rescue exercises.
It also features rain water harvesting and solar panel technologies.