Leeds United directors in 'harassment' court case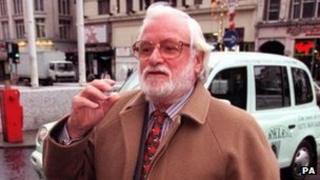 A former majority shareholder at Leeds United is taking legal action against two other directors over claims of harassment.
Melvyn Levi, once part of the Yorkshire Consortium which owned the Elland Road club, claims he and his wife have been harassed by United's owner, Ken Bates, and chief executive, Shaun Harvey.
Mr Levi claimed at Leeds County Court he was left fearing for his safety.
Both Mr Bates and Mr Harvey deny the claims.
Mr Levi is seeking damages for harassment, the personal injury he says he has suffered because of it, and an injunction to stop any future harassment.
'Money-grabbing spivs'
The allegations centre around articles in Leeds United's matchday programme and a broadcast on the club's radio station.
Opening the case, Mr Levi's barrister, Simon Myserson, told Leeds County Court one article, referring to his client and an associate used the phrase "a pair of money-grabbing spivs."
A further piece asked readers to consider what Mr Levi's role had been in relation to Bramley Rugby League Club, because "the ground is now covered in housing," while another printed Mr Levi's home address.
Mr Myerson said: "West Yorkshire Police intervened and security at Mr Levi's home was beefed up.
"Mrs Levi was given a personal radio alarm and the couple were told not to leave their home unless absolutely necessary."
The radio broadcast, on Leeds United's in-house station Yorkshire Radio, told listeners the club was looking for Mr Levi to serve legal papers upon him, urging anyone who had seen him to contact the station.
"This sought to suggest that Mr Levi was in some way a fugitive and invited members of the public to contact him," Mr Myerson said.
Giving evidence, Mr Levi said the alleged harassment had made him and his wife ill.
He said: " I didn't want to come to court. But I don't want to be intimidated or attacked. I don't want my wife to be living in fear."
The case continues.