Jane Tomlinson: 10 years of fundraising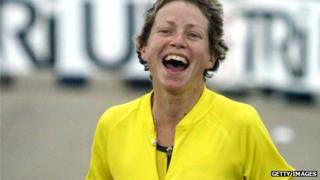 The family of the late Jane Tomlinson is set to embark on another fundraising trip - 10 years after a mother-of-three from Leeds decided to put on her trainers and raise millions of pounds for charity.
Jane Tomlinson hit the headlines for defying doctors after being told she had only a matter of months to live.
What started as a 5k run around Roundhay Park in her home city turned into a series of mammoth sporting challenges.
She tackled marathons and triathlons and cycled across the UK and America, all while battling against terminal cancer.
Now her family are to embark on their latest challenge to raise money - her husband Mike and daughter Becky will complete the Paris Marathon, cycle through France and arrive in Hull via the ferry.
The father and daughter duo will then cycle to London, with the aim of completing the London Marathon on 22 April - 10 years after Jane completed her first London Marathon.
Mr Tomlinson said: "I think the poignant moment for us is when me and Becky do the London Marathon 10 years on.
"I don't think we'll be able to keep a dry eye to be perfectly honest."
Mr Tomlinson added: "I think you have to accept that this is the path we chose. It's a path I'm choosing to stay on.
"I could walk away but I would feel like I wasn't doing the right thing in terms of Jane."
Mrs Tomlinson was first diagnosed with breast cancer in 1991 and underwent a mastectomy, but nine years later she was told the disease had spread to her bones and lungs.
In 2002 Mrs Tomlinson started a series of astonishing sporting triumphs, including completing the London Marathon and then four months later a triathlon, as well as the Great North Run.
The 38-year-old spent almost three months training six times a day in preparation for the events.
Mrs Tomlinson's determination to carry out some of the country's biggest sporting challenges led to her receiving many accolades including a CBE from the Queen in 2007.
She was also voted the UK's most inspirational woman in 2003 and handed the BBC Sports Personality of the Year's Helen Rollason Award.
"Death doesn't arrive with the prognosis" the Yorkshire woman once exclaimed.