Tribute park to Spen Valley 'Luddite' workers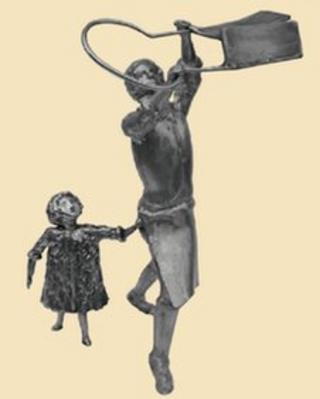 Two centuries after a group of mill workers tried to smash machines that were taking their jobs a memorial to their actions is to be unveiled.
The group became known as Luddites and attacked mills in the Spen Valley, West Yorkshire.
Now land at Liversedge has been converted to become Sparrow Park, where a statue of a mill worker will be unveiled.
The failed attack on the mills was on 12 April 1812.
The centre-piece of the new park is an imposing sculpture depicting a cropper in defiant pose, with a small child tugging at his leather apron.
Machine threat
Spen Valley Civic Society, who are behind the memorial park and statue, said there would be an information board and plaque telling the story of the local area and of the croppers, whose livelihoods were put at risk by increasing mechanisation in mills.
The croppers used hand-held shears to trim the nap from cloth, but a machine could do the work of four men.
They met at the Shears pub in Halifax Road to plot their campaign against mill owners, and on 12 April, 1812, a band of 150 Luddites attacked Cartwright Mills at Rawfolds with hammers and axes.
Two men were shot and the attack was repulsed.
Max Rathmell, Spen Valley Civic Society chairman, said: "Ned Ludd would be delighted to hear that the working class struggle he began 200 years ago is to be commemorated in the heart of the district where his followers caused so much pain and grief to the authorities.
"The design of the sculpture shows the croppers' defiance, but without the stereotyping of them being armed. We wanted a child to be an integral part of the statue to show they were ordinary family men.
"The artwork will dignify the defeat of the Luddites in their unequal contest with the mill owners and the army whom they fought for the right to work and feed their families."