Wind farm on Haworth moor near ex Bronte home approved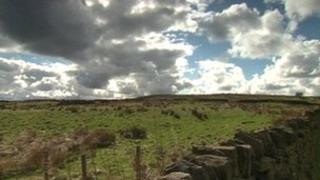 Plans to plan to build a wind farm on a West Yorkshire moor near the former home of the Brontë sisters have been approved.
Bradford councillors voted on an application to install a 200ft (60m) high test mast on Thornton Moor, near Haworth.
Protesters claim the development could have an impact on tourism in the area.
The company behind the scheme said it would make a "positive, long-term difference to the area".
The test mast is the first stage of a £12m plan to build four 328ft (100m) wind turbines.
They will stand next to the Brontë Way tourist trail, on the moor claimed to be the inspiration for Emily Brontë's novel Wuthering Heights.
The three Brontë sisters lived in Haworth parsonage in the 19th Century. Their former home is now a museum.
'Great heritage'
Andrew McCarthy, director of the Brontë Parsonage Museum, said: "From the Brontë Society's point of view, we... feel very strongly that we need to be mindful of conserving and looking after this really special landscape," he said.
"It's a landscape that inspired the Brontës. It's got great heritage importance."
The company behind the scheme, Banks Renewables, said the development had received "positive feedback" from local people.
Development director Phil Dyke said: "As well as producing significant amounts of renewable energy, the... scheme would also bring a range of other benefits to the area, from employment and commercial opportunities for local firms, to regular funding from a community benefits fund that would make a positive, long-term difference to the area."