Aaron Wilkinson trial: Stress defence accepted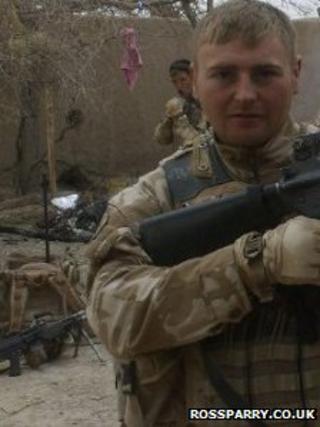 An ex-soldier who admitted the manslaughter of his landlady has been cleared of her murder on the grounds of diminished responsibility.
Aaron Wilkinson, 24, was diagnosed with post-traumatic stress reaction after a six-month tour of duty in Afghanistan.
Wilkinson claimed something came over him and he watched himself load a gun and fire at Judith Garnett, 52, in Alma Street, Woodlesford, Leeds.
The Royal British Legion stated in a report looking at UK veterans in the criminal justice system that the widely-held view that ex-soldiers are more likely to be involved in violent behaviour could not be proven.
Itfoundthat veterans were 30% less likely to be in prison in England and Wales than non-veterans.
Its report stated: "There is little evidence to support the common assumption that experience of conflict increases the likelihood of violent behaviour post-service, although there is some proof that it leads to increased levels of risk-taking behaviour."
But how prevalent are stress-related disorders among imprisoned veterans?
'Mad man'
As well as a stress-related illness, Wilkinson was also found to have Asperger's syndrome, or a similar condition, and may have been the victim of bullying while in the Territorial Army.
During his trial he told a jury at Bradford Crown Court he had felt like he was in a "trance" and could not explain the killing.
He said: "It sort of went black and white and hazy at times. It was like I just turned into a mad man."
His platoon commander said his men, including Wilkinson, were engaged in an intense two-day battle with the Taliban 18 days after arriving in Afghanistan.
The officer told the court Wilkinson suffered a minor shrapnel injury to the hip in that incident, which was the most serious injury of the unit's six-month tour.
In cross-examination, prosecutor Richard Mansell QC suggested Wilkinson was feeling "a bit lost in civilian life" and the killing was revenge for being told to move out.
But feeling lost is not uncommon, with many soldiers struggling to cope after they return from the front line.
According to areportby the Howard League for Penal Reform about 3.5% of those currently in custody in England and Wales have served in the Forces.
Figures from the Ministry of Defence and the Ministry of Justice used in the report suggest ex-servicemen are over-represented for sexual offences and violence against the person.
Some 32.9% of the ex-servicemen in prison were convicted of committing violence against the person, compared to 28.6% of the non-veteran prison population.
Stigma and shame
The trade union Napo, which represents probation and family court staff, published a report in 2008 which said the majority of ex-service personnel in prison or involved in probation in England and Wales were experiencing post-traumatic stress disorder (PTSD) as a result of their experiences on active service.
The Combat Stress charity, which specialises in the care of veteran's mental health, is currently treating almost 5,000 veterans of every conflict British forces have been involved in since World War II. Of those, 228 served in Afghanistan.
Nicola Hudson, a spokesman for the charity, said on average veterans wait 13 years between leaving the Armed Forces and contacting Combat Stress for help.
"Given that we have been in Afghanistan for 11 years, we expect over the next few years to see an increase in the number of referrals of veterans who served in the country," she said.
She added: "The time lag of 13 years is too long. Last year we launched a UK-wide campaign to battle the stigma and perception of shame that surrounds mental ill health and which so often prevents ex-servicemen and women from seeking help."