Mid Yorkshire Hospital staff offered reduced hours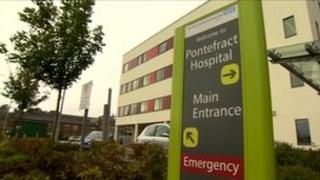 Hospital staff will be asked to reduce their working hours and take unpaid leave to save millions of pounds at a health trust.
Mid Yorkshire Hospitals NHS Trust has drawn up measures because it needs to save £24m in the next financial year.
The trust will also consider a ban on using agency staff to cover admin roles and limit new appointments to full-time roles on 36-hour week contracts.
The trust said savings could not be made without cutting the workforce.
Interim chief executive Stephen Eames said: "Staff costs account for more than 70% of overall expenditure and we cannot deliver savings on the scale needed without reducing the workforce.
"The new measures under consideration are necessary - the consequences of not taking action are far worse.
"We all need to work together to get this organisation in shape for the future and to deliver on our commitment to delivering safe, sustainable services to meet the needs of our communities."
The trust said it was also assessing the feasibility of other measures including transferring weekly paid staff to monthly pay and requiring staff to meet the cost of their own professional registration fees.
Jim Bell, the regional organiser with the union, Unison said some of the proposals, such as refining the trust's purchasing arrangements were acceptable, but others needed closer scrutiny.
One of the schemes to be considered was for staff to take an extra week's unpaid leave.
He said: "it's an interesting proposal, we'd like to explore it further.
"The issue for us at this stage is whether it's compulsory or not.
"If it's a voluntary matter we'd want to start serious talks with the trust.
"But the question will always remain for us - if the people are spending less time at work - who is doing the work when they're away?"