New multi-fuel facility at Ferrybridge to create jobs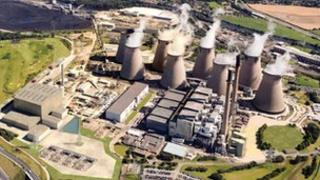 Hundreds of jobs are to be created with a new £300m multi-fuel facility at a West Yorkshire power station.
Work on the 68MW combined heat and power facility is due to begin at Ferrybridge later this year and be completed by early 2015.
Power company SSE said hundreds of jobs would be created during construction, with 50 new full-time jobs required once the plant was operational.
The facility will use a range of fuel sources from the Yorkshire region.
The facility, Multifuel Energy Ltd, is a joint venture between SSE and and waste management company Wheelabrator Technologies.
Once it is operational, the electricity generated will be sold to SSE.
Fuel sources used to generate electricity will include biomass, waste-derived fuels and waste wood. The plant will have the capacity to handle some 740,000 tonnes of mixed fuel each year.
Gary Aguinaga, managing director of Wheelabrator Technologies in the UK, said: "On-site preparation work is under way and full construction will begin in the summer.
"This will provide employment for hundreds of workers over the three-year building phase and we look forward to the Ferrybridge multi-fuel facility being fully operational by summer 2015."