George Galloway's Respect party targets Bradford Council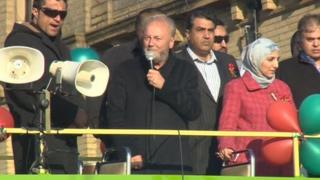 The Respect Party will have candidates in every ward at Bradford's local council elections following George Galloway's by-election win, it says.
Speaking to more than 2,000 people at a rally in the city's Infirmary Fields on Sunday, Mr Galloway described his victory as the "Bradford Spring".
He said "the political weather in the city of Bradford" had changed.
The three major parties said Mr Galloway's win was a one-off. The local elections will take place on 3 May.
Voters will choose one councillor in each of the metropolitan district council's 30 wards.
'Dark clouds'
Last week, Mr Galloway won the Bradford West by-election by 10,140 votes, overturning a Labour majority of more than 5,000 at the 2010 general election.
Speaking from the top of his campaign bus, the Respect MP told the rally: "This is the Bradford Spring. You changed not just the season, not just the climate, not just the weather.
"You changed the political weather in the city of Bradford and beyond and you must make sure that change is permanent.
"The political weather which was dark clouds over Bradford for so many years has now been swept away. In this new politics, in this new atmosphere which you, and us, have created together."
Earlier, on BBC One's Sunday Politics programme, Yorkshire MPs from the three main parties said Mr Galloway's win would not be repeated.
'Bold promises'
Alan Johnson, Labour MP for Hull West and Hessle, said: "This was a really extraordinary victory by George Galloway - he has tremendous powers of oratory.
"Having said all that, is it indicative of a sea change in British politics? Of course it isn't."
Jason McCartney, Conservative MP for Colne Valley, said: "I don't think this will be repeated again.
"It was a combination of the rhetoric of George Galloway, the personality of him engaging with people - which we have to admit he did really well - and also dissatisfaction with the main parties, which we've all accepted."
The Liberal Democrat MP for Bradford East, David Ward, said: "Let's give him a chance.
"He's made some bold and really enormous promises and let's just see whether he can deliver."