New plans for Bradford's former Odeon cinema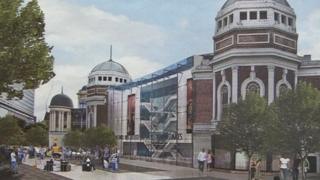 A developer has drawn up plans which it is hoped will save Bradford's former Odeon cinema from demolition.
The Odeon, formerly known as the New Victoria, was opened in 1930 and closed in 2000. Its landmark facade has been left virtually untouched.
The developer, who wishes to remain anonymous, wants to buy the building, restore it and turn it into a performing arts centre.
The Homes and Communities Agency owns the building and plans to raze it.
It says restoring the cinema would be too expensive.
Mark Nicholson, from the Bradford Odeon Rescue Group, said talks with the agency would continue and he hoped the new plans would save the building.
"Although the building itself at the moment looks like an eyesore and is covered up there's still massive potential there for it to be redeveloped," he said.
"The architecture is fantastic, you have got the iconic towers. It's more than possible to work with what you have got there and turn it into a real asset for the 21st Century in Bradford."