George Galloway victory: New Bradford MP 'must focus on city'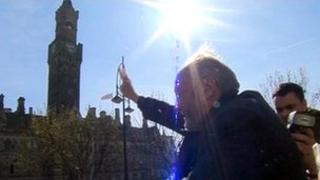 As residents of Bradford West woke to find out George Galloway was the victor in Thursday's by-election, they may have wondered what their new celebrity MP would deliver for the city.
From the "hole" in the centre of Bradford, where a Westfield shopping centre was planned, to the city's social and economic difficulties, the Respect MP can expect a full in-tray when he takes office.
In the city centre the BBC's Big Screen showed repeated footage of the election counting hall celebrations. Many people walked past, glancing upwards at the pictures.
Those celebrations may well have come as a shock to many. Labour had, after all, held the Bradford West seat for 38 years - except for a short time in the 1980s when the sitting MP defected to the SDP.
'Arguments and division'
That is perhaps why Mr Galloway's by-election victory has raised more than a few eyebrows among the city's voters.
Bradford resident Allie Ramsey said she was surprised at the size of the new MP's majority of 10,140.
"I don't think he's got any interest at all [in Bradford]," she said.
"He's got a high majority because of the Asian vote. If it hadn't been for his views on the wars then he wouldn't have got anyone's interest.
"I just hope it doesn't lead to more arguments and division."
With controversy over the recent reality TV show Make Bradford British - which put people from different ethnicities together to see if they could find common ground on what makes them British - those arguments and divisions are perhaps still particularly fresh in the mind of the city's voters.
And it is Mr Galloway's role in another reality TV show which is a cause for concern for some local residents.
One voter said Mr Galloway was "a very big character" and that she only knew him from his appearance on Celebrity Big Brother, where he memorably dressed up in a leotard and pretended to be a cat.
Another voter said she was "worried" that Mr Galloway's starring role on that show was the reason for such a big show of support for him in Bradford West.
'Put Bradford first'
However, more serious issues were on the minds of other people in Bradford with the news of Mr Galloway's by-election victory.
Taxi driver Mehrban Khan said he hoped the city's newest MP would act in the interests of Bradford.
He said: "People are sick of Labour, the Conservatives and the Lib Dems.
"They've obviously decided to vote for a new party - someone who will put Bradford first - somebody who will get the Westfield development moving.
"We used to be a city but we've been reduced to a village.
"His views on Iraq and Afghanistan were right. Labour should have known about them, the situation in Afghanistan is getting worse."
Mr Galloway's views on Afghanistan became, in fact, one of the main talking points of the recent election campaign after he claimed British soldiers killed there had "died in vain".
His comments came just weeks after five members of 3 Battalion, The Yorkshire Regiment, died alongside a sixth soldier in an explosion in Helmand.
'Crystal ball'
But in the light of Mr Galloway's by-election victory, voters in Bradford said it was time for the city's newest MP to move his focus from Afghanistan to issues much closer to home.
Qaisor Sheikh also urged the new MP to "do something positive" for Bradford.
"He's quite well known for his opinions, but my concern is Bradford city centre," he said.
"My main concern is that he's not going to get lost in all this and forget about Bradford.
"Yes, his party's policies are important, but he must concentrate on Bradford's needs."
Fellow resident Asif Hussain said he "didn't have a crystal ball" but said hoped Mr Galloway would do his best for the city.
He said: "Galloway says what he means and he's not afraid of powerful people.
"I don't think he'll be a bad MP for the city, I wish him all the best for the future."