Bomb disposal expert Lisa Head died after Afghanistan blast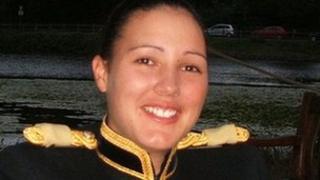 A bomb disposal expert trying to defuse a partially exploded device in an Afghan alleyway was fatally injured when another blew up, an inquest heard.
Capt Lisa Head, 29, of Huddersfield, West Yorkshire, was serving with the Royal Logistic Corps when she lost multiple limbs in the April 2011 blast.
A Bradford inquest heard she had safely defused one bomb and was trying to secure a second when a third exploded.
Coroner Paul Marks recorded a verdict of unlawful killing.
Capt Head died at Birmingham's Queen Elizabeth NHS Hospital the day after the explosion, after being flown back to the UK for treatment.
The coroner said it was "testament to her own physical stamina" and the quality of care she had received that she survived for as long as she did with the "catastrophic injuries".
'Happy to continue'
The court heard Capt Head was a "stubborn Yorkshire woman" who had wanted to defuse the second bomb despite the dangers.
Capt Head, who was based in Didcot in Oxfordshire, was the second female British soldier to be killed in Afghanistan.
Mr Marks praised the actions of her colleagues in their rescue attempts.
Cpl Adam Tucker told the inquest that he and Capt Head had gone to the alleyway in Nahr-e-Saraj after reports of a suspicious device being found there.
He said Capt Head had defused one bomb before retreating to a safe distance.
She returned into the alleyway with a colleague to take photographs when a second device partially exploded, resulting in no injuries.
Cpl Tucker said: "I asked Capt Head over and over again if she was happy to continue, and being a stubborn Yorkshire woman as she was, she was quite happy to continue."
The soldier said Capt Head had returned into the alleyway again and a third device had detonated.
Cpl Tucker said he had grabbed a weapon, medical kit and a metal detector to search for Capt Head but, when the dust cleared, he had realised there was no time to search safely.
"We took the risk and ran down to Capt Head," he said.
"On arrival to Capt Head, we realised she was a quadruple amputee and time was limited."
He described how he and a colleague applied at least nine tourniquets and field dressings to her wounds before she was airlifted to hospital at Camp Bastion.
"She was conscious the whole time. Not aware but conscious," he said. "Her eyes were open and she was responsive."
The inquest was told that Capt Head lost both legs, one arm above the elbow and digits on her other hand in the blast.
The cause of death was given as blast injuries caused by an explosion, including head injury.
Col Gareth Collett, an Army bomb disposal expert, praised the professionalism of Capt Head.
He told the inquest: "Why did she decide to go back? The simple answer is that she is a professional soldier.
"If the alleyway had not been cleared properly local nationals would have been killed in that area."