London 2012: West Yorkshire Olympic torch route revealed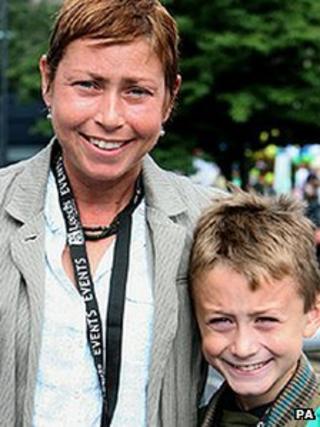 Olympic torch relay organisers have revealed the route the torch will be carried through West Yorkshire.
The Olympic flame will be in the county on 19, 24 and 25 June.
Places it will be carried past include Headingley Carnegie Stadium, Leeds Town Hall, Yorkshire Sculpture Park and the National Coal Mining Museum.
The son of fundraiser Jane Tomlinson is among local people chosen to be torchbearers. He said he would carry the flame on behalf of his late mother.
'Great experience'
Mrs Tomlinson, who died from cancer in 2007 at the age of 43, carried the torch ahead of the 2004 Games in Athens.
Steven Tomlinson, 14, said: "It's a great opportunity to be part of the Olympics. It should be a great experience."
On 19 June the torch will arrive in Boston Spa before moving on to Wetherby, Harewood and into North Yorkshire.
The procession will return to West Yorkshire on 24 June, arriving in Huddersfield and travelling to Leeds via Bradford and towns including Keighley and Ilkley.
After an evening celebration and overnight stay in Leeds the torch will travel through places including Batley, Wakefield and Castleford, before moving on to South Yorkshire.
Leeds City Council executive member for leisure Adam Ogilvie said: "This is a once-in-a-lifetime opportunity for communities across Leeds to put on an amazing party."
Councillor Andrew Thornton, from Bradford City Council, said: "The Olympic torch relay passing through our city and towns will be both a historic occasion for the Bradford district and an inspiration for our young people."
Other local torchbearers include 12-year-old Abigail Stone, from Leeds.
Abigail, a pupil at Abbey Grange High School, is among 212 12-year-olds who have been selected as torchbearers through the London 2012 Get Set Education programme.
'Pretty overwhelming'
She said: "When I first found out it didn't seem real at first because it was such an opportunity. I am very excited."
Abigail, who will carry the torch in Morley, was nominated by her PE teacher Rachael Cole, who said: "Abbie regularly represents the school in netball and plays tennis outside of school.
"She knows how to give her best and how important health and fitness are. I'm so pleased for her."
Khahil Hussain, 37, from Manningham, Bradford, has also been chosen as a torchbearer after he was nominated for his community work.
He said: "It is pretty overwhelming to be chosen as a torchbearer, it is a once-in-a-lifetime opportunity and I can't wait.
"People like me who work in their community don't shout about what we do, we just want to get involved and help people so I'm really honoured to have been chosen."
The Olympic flame arrives in the UK on 18 May and begins its 70-day journey at Land's End on the morning of 19 May.
During the 10-week relay the torch will be carried by 8,000 torchbearers and will travel about 8,000 miles.
Locog say the torch will come within 10 miles of 95% of the population.