Halifax Minster service marks town's 'sorrow and solidarity'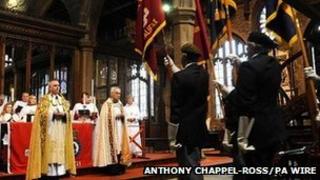 Hundreds of worshippers packed Halifax's 900-year-old Minster to remember the lives of the six servicemen, five from 3 Battalion, The Yorkshire Regiment, who were killed last week in Afghanistan.
Walking in through the historic Minster's door, under a fluttering St George's flag flying at half mast, there was quiet contemplation as the congregation gathered.
Young and old, fathers and mothers, daughters and sons, ex-servicemen in uniform and even bikers wearing leather jackets, filled the building wanting to pay their respects with not one pew spare.
It was the most appropriate place for such a service of remembrance.
Just feet away from the congregation was the Chapel of the Resurrection, the regimental chapel of the Duke of Wellington's Regiment which was eventually subsumed into the Yorkshire Regiment.
'Inner strength'
The Vicar of Halifax, Canon Hilary Barber, said everyone there wanted to "express our sorrow, to offer our solidarity with those who died, with those currently serving and those preparing to leave these shores for their next tour of duty".
Canon Barber lit six candles, one for each of the men who had died "for their Queen and for their country", and he warned that "war has a cost involved, and it is usually paid for in lives lost and taken".
Despite the air of sadness among the congregation, Halifax Minster's huge Yorkshire stones seemed to echo warmly to hymns such as The Lord Is My Shepherd and Guide Me, O Thou Great Redeemer.
As well as traditional Christian elements, prayers were also said during the service by representatives of Halifax's diverse communities including a Buddhist, a Muslim and a Hindu.
Canon Barber said he was "hugely conscious" that more soldiers from the Yorkshire Regiment would soon be heading for Afghanistan.
That sentiment chimed greatly with Deborah Bird, a member of the congregation whose son will soon be serving in Afghanistan.
She said: "I just want to pay my respects and say my prayers for the guys out there and the guys who are going."
Mrs Bird said she worried about what her son was going to face in Afghanistan, however she said Sunday's service had given her new "inner strength".
Perhaps the families of the six servicemen will also be able to take some solace from a service which seemed to bring a community together.
But as Geoff Scott, from the Elland and Greetland branch of the Royal British Legion, told me, "It's such a feeling of loss. We will be mourning for quite a while."