Afghanistan deaths: Family and friends pay tribute to soldiers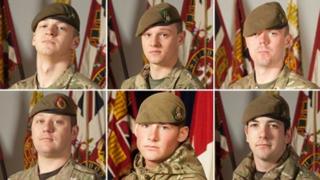 Family and friends have paid tribute to four West Yorkshire soldiers who were killed in Afghanistan.
Pte Jake Hartley, Pte Anthony Frampton, Pte Daniel Wilford and Pte Christopher Kershaw died alongside two other soldiers on Tuesday.
Dewsbury-born Pte Hartley, 20, Pte Frampton, 20, and Pte Wilford, 21, all lived in Huddersfield and Pte Kershaw, 19, was from Bradford.
The family of Pte Hartley said his death was a "massive, massive loss".
'Heart of gold'
Pte Hartley, who joined the Army aged 17, would have been 21 on Saturday and his family said they would gather with his friends to celebrate his life.
His stepfather Mark Taylor, 44, said: "Jake was always in the limelight. He was a larger than life character. He was really determined to do well in army life."
Describing Pte Hartley's character, Mr Taylor said: "He was kind, generous, heart of gold, an absolutely wicked sense of humour."
Mr Taylor said Pte Hartley had been the youngest in his battalion to be made a corporal and his career was "five star".
Asked how the family reacted when Pte Hartley was deployed to Afghanistan, Mr Taylor said: "We were all scared of him going, but it was his job, that's what he loved."
The mother of Pte Anthony Frampton, who was known as Anton, said she was "so very proud" of him.
Margaret Charlesworth, 47, described her son as "happy" and added: "He was just the joker, the clown. He entertained all the troops. He lifted them up with his daft dances and karaoke and singing. And they loved him for it."
Mrs Charlesworth said Pte Frampton was "scared" of going to Afghanistan but that "he had got his head around it".
He told her that he had done the training and that "he would be fine".
Mother's fears
Leeds Rhinos player Danny Bravo, who went to school with Pte Frampton, said: "He only went out on Valentine's Day. It happened so fast.
"For such a young age, for 21 he hasn't really lived his life. I am sure [his family] can pull together but it's a tough loss to deal with."
The family of Pte Wilford spoke of how proud they were of their "hero".
His aunt Susan Clarke, 51, said they would remember him as a "fun-loving, caring, proud lad".
"He's done us all proud," she said. "He's a hero in our eyes."
Pte Kershaw's mother Monica, from Eccleshill, Bradford, said she told her son she was worried he would not come back in one piece.
"I said 'Be careful. I want you to come back but I don't want you to come back in a wooden box' and he said 'I won't mum. I am not that stupid.'
"What's he done? He's come back in a wooden box."
Pte Kershaw's father Brian said his son had been badly affected by the death of one of his comrades last year.
Mr Kershaw said: "He went a little bit off the rails with that. He wasn't 100% sure that he wanted to go but once he got back down to Warminster around all his friends he thought it through and he knew he wanted to go there."