Men arrested over murder of Bradford father Amjad Hussain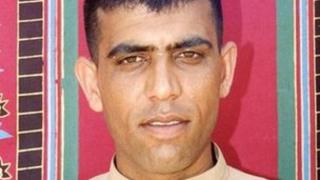 Two men have been arrested on suspicion of murdering a Bradford father.
The body of 31-year-old Amjad Hussain was found at his home in Rylstone Gardens on 12 January after a fire at the property.
Mr Hussain, who had a nine-year-old son, died from neck injuries caused by a heavy bladed instrument.
West Yorkshire Police said the fire had been started to destroy evidence. The arrested men, who are aged 25 and 32, are in police custody.
Mr Hussain, who was from the Mirpur district of Pakistan, married in Pakistan and came to Bradford 10 years ago.