BBC Radio presenters Sport Relief canal pedalo effort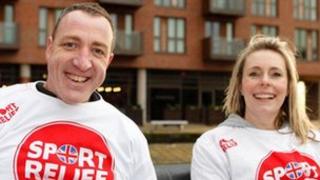 Two BBC Radio Leeds presenters are making final preparations for their BBC Sport Relief 2012 challenge.
Adam Pope and Katherine Hannah will travel all 127 miles (204km) of the Leeds-Liverpool canal in a swan-shaped pedalo called Grace.
They will set off from Eldonian Village in Liverpool on Wednesday, 14 March, arriving in Leeds on Friday, 23 March.
Hannah said: "The reality of what we're doing is really hitting home and I worry about whether I'm ready."
She added: "I'm also not looking forward to being away from home for 10 days.
"I'll miss my family and friends, although they've promised to come and see me en-route and donate some money to Sport Relief.
"I'll be packing my hot water bottle in case it's cold on the narrowboat, and plenty of chocolate to keep my energy levels up.
"I know it'll be a good laugh pedalling with Popey for 10 days, but I might pack my earplugs too just in case I need a bit of peace and quiet."
The pair have undergone a gruelling training regime to prepare themselves for the 10-day challenge, including being put through their paces by Superleague side Wakefield Trinity Wildcats.
Pope said: "The final week of training began with a five-mile run in the Huddersfield sunshine. My legs feel so heavy at the moment.
"I wanted to run seven but didn't feel too bad when my special running watch told me I had burned off 820 calories in an hour.
"I much prefer running outdoors to the gym where I have been giving the pedalo bike machine some hammer.
"I've ramped it up to the maximum level 10 to make it as tough as possible on my legs"
Grace, too, has been getting into shape after springing leak before the originaltest-run in January.
She has since undergone repairs and Pope and Hannah took her out for asecond test-run at the end of last month.
Travelling at an average speed of about 2mph (4km/h), and negotiating 91 locks along the way, Pope and Hannah will pedal up to 10 hours a day.
"Wherever I go people are coming up and wishing me and Katherine all the best and want to donate," Pope said.
"Realistically there's bound to be hurdles to overcome and I suppose the biggest concern is damage to Grace… and ourselves.
"The toughest aspect will be being away from the family but I constantly think of the finish line and the moment it's all over and try to banish any negative thoughts."
Follow the presenters pedal-powered journey on BBC Radio Leeds 92.4FM, 774Am & DAB, BBC Look North and at bbc.co.uk/leeds from 14 March.