Leeds bus lane cameras to be rolled out across the city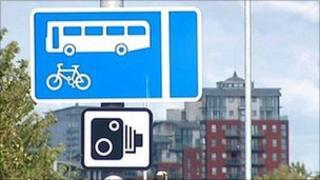 Bus lane cameras could be rolled out across Leeds after a drop in the number of drivers abusing the system in the city centre, the council has announced.
Leeds City Council said the scheme had reduced offences by more than 80% since its launch in August 2011.
It said the number of motorists caught illegally driving in bus lanes fell from 6,146 to 1,157 a week.
The council's executive board is expected to approve expansion of the scheme beyond the city centre.
Councillor Richard Lewis, executive member for development on Leeds City Council, said: "We are absolutely delighted with how effective the cameras have been in cutting down abuse of bus lanes.
"They appear to be a real deterrent to drivers illegally dodging traffic queues as these figures demonstrate.
"Clamping down on rogue motorists clogging up the lanes results in fewer hold-ups for buses, which should in turn ease the flow of traffic through the city."
If approved, installation of the CCTV cameras would take place in stages after a further analysis of the bus lanes, the council said.
As part of the scheme, vehicles seen to be illegally using bus lanes or bus gates are photographed and drivers are sent a £60 penalty charge notice.
The fine is reduced to £30 if paid within 14 days.