Jane Tomlinson's family in double marathon challenge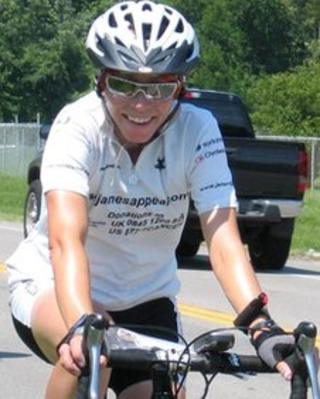 The family of charity fundraiser Jane Tomlinson are to run the London and Paris marathons - as well as cycling 600 miles between the two cities.
Mrs Tomlinson raised almost £2m for charity before dying from cancer.
Her family have carried on raising cash for her charity, the Jane Tomlinson Appeal, since her death in 2007.
Husband Mike, from Rothwell, Leeds, and daughter Rebecca, are to run the marathons and cycle over eight days.
They will be joined by a team of cyclists as they take on a 100 mile-a-day route between the capitals.
After taking part in the French run on 15 April, they will cycle to Zeebrugge in Belgium.
From there they will get the ferry to Hull and travel through Yorkshire, before arriving in London ahead of the marathon on 22 April.
Mr Tomlinson said: "I still struggle to comprehend the endurance feats Jane completed and the starting point was the 2002 London Marathon.
"The aim was to raise £5,000 and here we are 10 years and £4m later.
"More than the money, Jane helped people change lives and to celebrate this we wanted to celebrate the anniversary in appropriate fashion. "