Leeds General Infirmary to carry out specialist walking op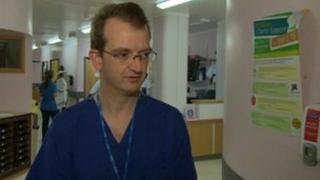 A specialist operation which could help children with cerebral palsy to walk unaided is to be performed at Leeds General Infirmary.
Consultant paediatric neurosurgeon John Goodden studied the technique in the United States with an American surgeon who developed the procedure in 1991.
Most families have had to raise the money to go to the US for the surgery.
Mr Goodden said it was "tremendous" he had been given permission from trust managers to carry out the operation.
The micro-neurosurgery, called selective dorsal rhizotomy (SDR), involves identifying and cutting the spinal nerves causing stiffness and pain.
The decision to fund the £24,000 operation and aftercare is made by each patient's local primary care trust.
Mr Goodden said patients from across the country could be referred to Leeds for treatment.
He said he had three patients currently waiting for funding approval and was hopeful the first operation would take place within four months.
'Phenomenal' results
He said: "It's a surgery that helps a lot of people and for the right children can make a huge difference to their lives."
"For us to do it in this country I think is absolutely of paramount importance.
"We're not a third world country, we're a first world country and we should be able to look after our children and that's why I went to the States to learn how to do this."
Mr Goodden described the operation as having "phenomenal" results.
He added: "I've seen a child who had a very good level of mobility but still had spasticity and was tiring early and was told by his physiotherapist 'here's a wheelchair, that's what you're going to need for long distances, get used to it'.
"Being told at six or seven years old that you're going to need a wheelchair for the future is heartbreaking.
"Instead he's had surgery... he's not going to need that wheelchair and that's a fantastic gift for us to give our children."
Julie Elliott's five-year-old son Ben, who has cerebral palsy, underwent the procedure in the US after the family raised about £50,000 to pay for it.
Ms Elliott, from Killingworth, North Tyneside, said Ben was a "walking example" of the success of the operation.
She said: "These children need SDR and for Leeds to get up and running is a step in the right direction."