Leeds Parish Church to become Minster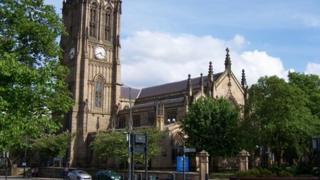 Leeds Parish Church is to be given the status of Minster to mark the Queen's Diamond Jubilee year.
The Parish Church of St Peter's, Leeds, will become a Minster in a ceremony on 2 September, the Bishop of Ripon and Leeds the Right Reverend John Packer said.
Bishop Packer said the church stood on a site occupied by a place of worship for more than 1,000 years.
The building, in Kirkgate, will soon be known as Leeds Minster.
Bishop Packer said: "Leeds Parish Church has a long and distinguished history at the heart of Christian ministry in Leeds.
Civic events
"This is a move which I know is welcomed by the city itself, and by the Lord Lieutenant of West Yorkshire Dr Ingrid Roscoe."
As well as being a parish church, St Peter's serves as a church for important civic events in the life of the city.
The date of the service to mark the conferring of Minster status has been chosen to coincide with the original dedication of Leeds Parish Church on 2 September, 1841.
Rector of Leeds the Reverend Canon Tony Bundock said that the designation would make the church's civic role more explicit.
He added: "We welcome this important step in the life of the Church of England in Leeds which gives important recognition to Leeds Parish Church in its role as a church for the city."