Fined Otley Chevin naturist Nigel Keer vows not to return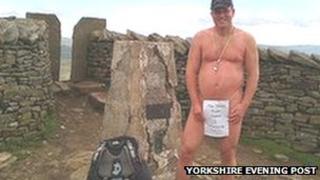 A naturist has said he will not return naked to a West Yorkshire beauty spot after being fined for causing distress to a dog walker.
Nigel Keer was found guilty at Leeds Magistrates' Court on Wednesday of a public order offence and fined £315.
Keer said he did not think there was anything wrong with a "little bit of nakedness" but said he realised there was a "time and a place".
The 41-year-old, of Cottingley, Leeds, plans to appeal against the conviction.
Keer was out walking naked except for a backpack, boots and baseball cap in Otley Chevin last October, when he was apprehended by an off-duty police officer.
'No offence'
In an interview with BBC Radio Leeds, he said he would carry on being a naturist but would not return to Otley Chevin naked.
"There is a time and a place and I know Otley Chevin may not have been the place," he said.
"I don't see any problems with a little bit of nakedness in reasonable areas."
Keer, who has written a book about naturism, said people often get the wrong impression.
"There is no sexual element in naturism, not in genuine naturism," he said.
"It's just about being at one with nature, the freedom, it's liberating and I enjoy it and so do the best part of four million people in the UK."
Keer said he will appeal against the conviction because he felt he had not committed an offence.