Nigel Keer fined over naked ramble at Otley Chevin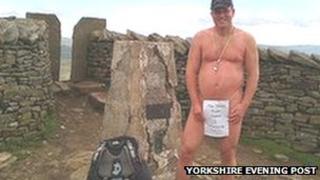 A man who rambled through a popular Yorkshire beauty spot naked except for a backpack, boots and a baseball cap has been fined £315.
Nigel Keer, 41, was found guilty at Leeds Magistrates' Court of a public order offence after causing distress to a woman walking her dog last October.
The court heard he was arrested by an off-duty policeman who saw the woman looking on with a "disgusted frown".
Keer, of Cottingley, Leeds, had denied the offence.
He maintained he did not mean to cause distress or provoke a reaction and said "being naked is not an offence".
The court heard that during his naked tea-time stroll, in Otley Chevin on 2 October, Keer kept score of the number of positive and adverse reactions he received.
The score was 15-0 in his favour until he was apprehended by off-duty officer Pc Mark Buxton, he said.
He arrested Keer and ordered him to get dressed, which he did after pulling some clothes out of his backpack.
Pc Buxton, who was out running at the time, told the court the woman dog walker "had a disgusted frown across her face".
"I saw her turning around," he said. "I could tell she was upset about something."
On seeing Keer walking naked through the fields, Pc Buxton said he did not believe what he initially saw and carried on running before doing a double-take.
'No surprise'
"I was so shocked and surprised and to some degree alarmed by what I had just seen," he said.
Judge Christopher Darnton said: "I do accept that Mr Keer is a naturist but I note with some interest that he would not walk with his clothes off in the city centre of Leeds.
"On this occasion, a lady was clearly distressed by what she had seen going on."
Speaking after the verdict, Mr Keer said: "I'm not happy with the decision and I plan to appeal.
"I'll carry on being a naturist.
"The surprise of seeing a naturist whilst you're out walking I don't think would be much different to seeing a steam train on the East Coast Main Line."