Question time for West Yorkshire's young musicians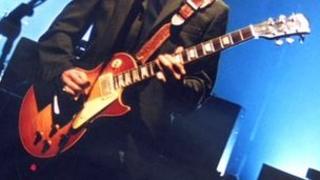 Young musicians in West Yorkshire are being given the chance to question music industry experts about how to get ahead in the business as well as show off their talents.
Alan Raw, who presents the BBC's Introducing in West Yorkshire, will host a music masterclass on BBC Radio Leeds on Thursday 16 February at 18:00 GMT.
The discussion will be followed by a three-hour live music showcase from Leeds College of Music featuring bands from across West Yorkshire.
Raw said: "The music industry is notoriously difficult to get into and even successful artists are still trying to fathom out how it works.
"Far too many talented musicians find themselves looking back and wishing they'd had more information at the start," he said.
Taking part in the masterclass, ready to answer any question put to them, will be:
Immi Yeh, founding director of Wombeatz, a Leeds-based social enterprise dedicated to promoting and training women in music technology. Immi has been DJing for over 10 years as well as teaching music technology and working as a freelance live sound engineer
Simon Glacken, founder of Leeds rock label Brew Records which was started in 2007. Since then the label has released tracks by the likes of Kong, Hawk Eyes, Castrovalva, These Monsters, Humanfly, Blacklisters and Holy State
Whiskas, guitarist with Forward, Russia!, co-founder of indie label Dance To The Radio, a university lecturer and producer who has also recently digitally released his first solo album
'Demystifying industry'
Aspiring musicians who want to find their way through the music business maze are being asked to get in touch with their questions ahead of the masterclass via BBC Leeds' Facebook or Twitter.
Whether it is how to get a record deal, how to find out what support is available for musicians in West Yorkshire, or even whether there is even any point in pursuing your musical dreams, panel members are ready to answer any questions about the industry.
The music masterclass will also feature top tips from the wider music industry including BBC Radio 1 DJ Annie Mac.
Alan Raw said: "The question and answer session will be led by questions from young aspiring musicians themselves, demystifying the music industry and highlighting the options and alternative routes to sustainable success."
To get in touch with your questions for the panel:
Contact us via Twitter: Tweet @bbcleeds using #bbcleedsmusic
Or post a message on the BBC Introducing in West Yorkshire page on Facebook
Once the big music business questions have been answered, it is then time for six bands from across West Yorkshire to plug in and make some noise.
Arthur Rigby and the Baskervylles, The Coopers, Danny T and Tradesman, Deadwall, The Sailmakers and Jasmine Kennedy are all lined up to play at Leeds College of Music in a special live gig.
The free ticket-only gig, presented in association with not-for-profit live music organisation 360 Live, will be broadcast live on BBC Radio Leeds between 19:00 and 22:00 GMT.