Police review evidence over missing Bradford father Sajid Siddique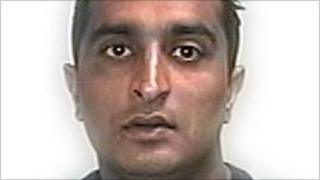 Detectives have renewed an appeal for information on a missing Bradford businessman - five years after his Valentine's Day disappearance.
Car dealer Sajid Siddique was described as a "doting" father and police said it would have been completely out of character for him to leave his wife and three young children.
Det Insp Steve Snow, from West Yorkshire Police's Homicide and Major Enquiries Team, believes someone in Bradford is withholding information and may be too scared to speak out.
"He was a well-known businessman in the area and that's why we feel that the clues do lie within Bradford," he said.
Mr Snow said the family "remain hopeful that one day Sajid will appear but at the same time we're five years down the line and they always have at the back of their minds that something may have happened to him".
On Valentine's Day in 2007, Mr Siddique's wife Asma, who lives in Heaton, became worried when he failed to pick up his two-year-old daughter Salihah from nursery.
By late afternoon she phoned the police and they discovered his Volkswagen Bora in the car park at the Asda supermarket in Shipley.
The business associate Mr Saddique met that morning was questioned by officers but no action was taken.
Now, in a renewed attempt to get answers, Mr Snow's team are interviewing witnesses again and reviewing all evidence gathered over the past five years.
The detective said he believed at least one of the people spoken to by officers after Mr Siddique's disappearance was withholding information, possibly out of fear.
"If people are reluctant or scared to speak to the police they can ring Crimestoppers anonymously, or speak to me directly."
Reported sightings of Mr Siddique in Dubai, where he may have bought property, and in the Far East, remain unconfirmed and there have been no signs that he is alive and well.
Mr Snow said he wanted to solve the case so Mr Siddique's family could get a sense of closure, from knowing where he was or what had happened to him.
"We always hope to find someone alive, that's why we always continue with the investigation and will always follow up new lines of information that present themselves.
"Clearly this anniversary is a key time for his relatives who still seek answers as do we."