Bridgewater Place lorry crush death referred to CPS by coroner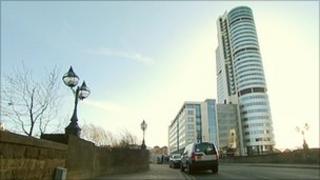 A coroner has halted an inquest and referred the death of a man who was crushed by a lorry in strong winds to the Crown Prosecution Service.
Edward Slaney, 35, of Sowerby Bridge, West Yorkshire, was crushed by the vehicle near Leeds' tallest building, Bridgewater Place, last March.
Coroner Melanie Williamson heard of complaints about a "wind tunnel" effect since the building was constructed.
She said some bodies involved may face corporate manslaughter charges.
'Twister film'
Ms Williamson heard evidence that Leeds City Council had received 16 complaints about the "wind tunnel" effect on the street since the building was constructed.
After hearing evidence about the design and construction of the building, Ms Williamson, said: "I'm concerned having heard all the evidence there may be an offence of corporate manslaughter by one or more of the organisations.
"I'm obliged to adjourn this inquest pending further inquiries by the Crown Prosecution Service," she added.
A witness told the inquest the lorry being blown over was like something out of a "twister film".
Lorry driver Paul Bartle told Leeds Coroner's Court he had made his way to the city centre to escape gale-force winds and had been driving past Bridgewater Place.
He said: "I was doing about 20mph, the next thing I remember is I'm on my side.
"I floated through the air. It just carried me - it was just like a hot-air balloon going up."
'Freakishly high' winds
Witness Andrew McKenzie told the inquest he and other bystanders, along with a team of workmen with a digger, had helped lift the lorry off Mr Slaney and the woman.
Mr McKenzie said: "A soon as it [the lorry] came out of the shadow of the building, that was when it all went wrong.
"It was mad - it got lifted up like a bit of paper and got thrown across the road."
Another witness, Paul Pheasey, said in a statement read out in court: "It was as if to compare something to a twister film shown on television."
The inquest was told Mr Slaney, an environmental engineer, died of chest injuries.
The woman suffered serious internal injuries and is now afraid to go outside when it is windy, the court heard.
PC Noel Lowdon told the hearing the accident spot had become known for strong winds and that day "freakishly high" speeds of between 67mph and 79mph were recorded at the building.
The court heard that people had been complaining to Leeds City Council of a "wind-tunnel effect" at Bridgewater Place since 2008.
Daljit Singh, deputy area planning officer at the council since January 2009, told the inquest that it had taken measures to protect pedestrians by erecting barriers in the area.
But he said he had no knowledge of whether anything had been done to protect high-sided vehicles, such as lorries, from the wind.