New Model Army guitar burnt in Bradford fire auctioned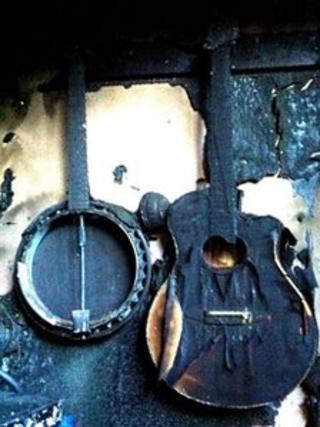 A guitar which was burnt in a fire on Christmas Eve has been turned into artwork and auctioned for £350.
The guitar, which belonged to Bradford band New Model Army, was damaged in a fire at the band's studio - a mill on the city's Thornton Road.
Artist Joolz Denby, who has worked with the band for 30 years, created an artwork out of the charred guitar.
Money raised from the auction was donated to the Yorkshire and Humber Fire Fighters Charity.
New Model Army (NMA) formed in the 1980s against the backdrop of the Thatcher government and the Miners' Strike.
Ms Denby said the fire was "catastrophic" and the band lost almost everything in the studio, including old and important musical instruments, and months of recording work.
Guitar 'flash-fried'
"There's nothing left really," she said. "We managed to salvage a couple of things that had been left in hard cases from the last tour, but 90% of everything was destroyed."
Ms Denby said the 12-string acoustic Fender guitar belonging to Justin Sullivan had been "flash-fried".
Although it was intact, the blackened instrument was unusable.
She painted it with 40 coats of lacquer, bound it with wire and added a provenance label.
Ms Denby said the finished artwork was "really elegant".
"It sounds terrible but when you look at it you think, 'My God - that's beautiful'," she said.
The guitar was bought at auction for £350 and will be presented to its new owner at a concert on Sunday.
The band have started re-recording much of their lost material, but Ms Denby said NMA's next album would be "months delayed".
Also lost in the fire were several heritage instruments, including a drum kit belonging to drummer Robert Heaton who died of a brain tumour in 2004.
Ms Denby said NMA decided to give the money to The Fire Fighters Charity because West Yorkshire Fire Service had been so helpful.
"The firefighters recognised that there were beautiful old instruments in there, and they did their utmost not to let them be destroyed," she said.
"But unfortunately the roof fell in while they were trying to save the stuff."
Nobody was hurt in the fire.