'Downsize Kirkgate Market' idea supported by Leeds council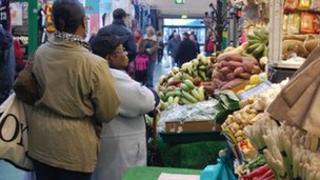 Councillors in Leeds have agreed in principle to cut a quarter of the trading space at Kirkgate Market.
The recommendation was made by market specialists who were asked by Leeds City Council to look at how to keep the market thriving.
The council's executive board has ordered a feasibility study which will investigate the costs of reconfiguring and redeveloping the space.
A new food court area and public toilets could also be built.
A report from markets specialist Quarterbridge, published last month, recommended the market's size by reduced to 52,000 sq ft (4,831 sq m).
Profits worry
It also suggested that the 1970s and 1980s extensions to the rear of Kirkgate Market, built as a result of a major fire in 1975, and the 1904 building should be redeveloped.
The feasibility study will also explore the advantages and disadvantages of the market being jointly run by the council and one or more private sector investors.
When the recommendations were revealed last month councillor Gerry Harper, the council's markets champion, said the market had to react to changing trends in shopping and the poor economic climate.
"If we leave it as it is then it's just going to get worse and worse, with fewer and fewer people coming in," he said.
Butcher Nigel Gifford said the proposed redevelopment "could be a good thing" as the market needed modernisation.
But fishmonger Liz Laughton said she was unhappy about the possibility of bringing in private investors to jointly manage the market.
She said: "Nobody is going to invest privately without taking a big stake in the profits."