Chairman quits troubled Mid Yorkshire Hospitals trust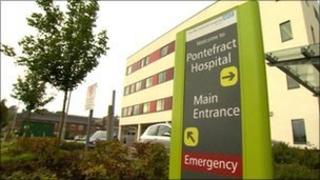 The chairman of a hospital trust that closed an emergency department and considered bringing in army medics is to stand down.
Ed Anderson will leave Mid Yorkshire Hospitals NHS Trust, in March.
The trust was criticised for shutting Pontefract hospital's A&E, prompting its chief executive to resign.
David Stone, the new acting chairman, had recently retired after 10 years in the same post at Sheffield Teaching Hospitals NHS Foundation Trust.
The A&E unit in Pontefract has been closed overnight since 1 November.
'Significant contribution'
Recently, a proposal to bring in army medics at Pontefract to cover a shortage of doctors was ruled out by the trust following criticism of the plan from patients and MPs.
The trust has said there was "no question" of military doctors being brought in the department.
Those critical of the proposal included Yvette Cooper, shadow home secretary and Labour MP for Pontefract and Castleford.
Kathryn Riddle, chairman of NHS North of England, said Mr Anderson, who became chairman in 2009, indicated last spring he wished to stand down because of "other commitments".
She welcomed his "significant contribution" to the trust.