Johnston Press to end Yorkshire Post printing in Leeds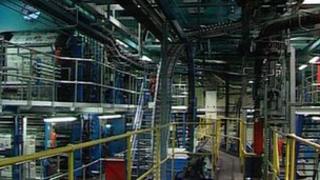 The owner of the Yorkshire Post and Evening Post newspapers is planning to stop printing them at its Leeds headquarters.
Johnston Press said 25 jobs would be lost if the proposal went ahead. The papers would be printed in Dinnington, near Sheffield, and Sunderland.
The company said the move would improve quality, allowing additional colour in the two newspapers.
Union representatives said the announcement was sad news for the city.
The Yorkshire Post has been printed in Leeds continuously since 1754.
Pete Lazenby, from the National Union of Journalists, said: "This is an end of an era of importance not just to the newspaper and the newspaper industry but to Leeds as a city.
"It's an event of historical importance and we shouldn't allow this to pass without having some form of commemorative event to mark the occasion.
"It's a tremendously sad moment."
Stephen Hart, regional officer for Unite, which represents print workers, said: "It's not a surprise really, we have had round after round of redundancies within the print facility.
"We expected the final axe to fall."
Consultation process
Mr Hart said generations of families had worked in the Leeds press but numbers had dwindled over the years as their skills were replaced by technology.
He said staff may be offered roles at the Dinnington or Sunderland plants but he did not expect many to make the move.
Danny Cammiade, chief operating officer, said the new printing arrangement would "follow the pattern across the newspaper industry of printing being centralised into fewer but bigger and more modern plants".
He said: "The Wellington Street building would remain a base for nearly 500 editorial, commercial and support staff.
"Any changes to printing would take effect in March following a full and proper consultation process."