Kirklees Council plans voluntary 'code of conduct' for scrap metal dealers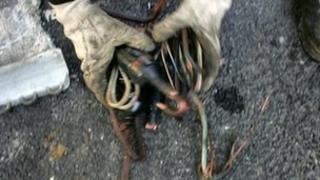 Scrapyards will be asked to sign up to a voluntary code of conduct to tackle the problem of metal theft under new plans by a West Yorkshire council.
Scrap metal dealers will have to ask for ID from people selling metal.
Kirklees Council, which covers the Huddersfield area, said it would be the first council in Yorkshire to implement the code.
Cash payments would also be phased out under the plans.
The Association of Chief Police Officers estimated that the cost of UK metal theft is £770m per year.
Hospitals, churches, war memorials, artworks and manhole covers are all targeted regularly.
Outdated laws
Kirklees council leader Mehboob Khan said the next step was to consult with scrap dealers and to ask the government to help enforce the new code.
"We have to find ways of combating scrap metal thefts," said Mr Mahboob.
"Locally we have seen an increase in thefts and nationally we know that they have doubled over the last five years. We in Kirklees are determined to set an example and we will work with the Local Government Organisation to lobby for change."
Currently scrapyards must register with local councils, but in January Home Secretary Theresa May acknowledged that the law was no longer working now the price of metal had soared.
"The laws were set up in 1964 when the price of metal was not an issue," said Ms May. "It's a very big issue now. The cash-in-pocket nature of the industry is what is really dragging it down."
Under the plans, scrap dealers are to report suspicious customers, will not accept metal from people arriving on foot or by taxi, and will install CCTV.
Voluntary code 'unworkable'
Mr Mahboob said the code of conduct would be voluntary and scrapyards which did not sign up would not be penalised. However, they would be subject to increased enforcement visits.
But critics said police would not have the manpower to enforce a code of voluntary code of conduct.
Mark Schofield, a Huddersfield scrap dealer, said: "Within 15 miles of Huddersfield there are 80 sites where you can sell scrap metal. Those sites could easily do 10,000 transactions over a few days.
"Are the police and council trying to suggest there is the manpower to visit all 80 sites and go through 10,000 transactions since lead was stolen off a church roof, or cable stolen from a railway track? Never."
British Transport Police said metal worth £13m had been stolen from railways over the past three years.
In January, a thief cut through a 650-volt cable at the Archer Road railway bridge in Sheffield, affecting 48 trains.