Leeds City Museum exhibition revives spirit of 1970s West Yorkshire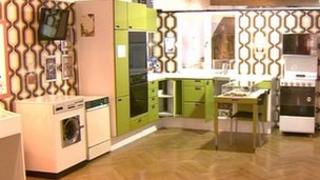 Memories of West Yorkshire in the 1970s have been revived at Leeds City Museum with the launch of a new exhibition which evokes an era stretching from glam to punk and from a famous FA Cup victory at Wembley in 1972 to the election of Margaret Thatcher in 1979.
Organisers describe the Silver 70s exhibition as "a celebration of a highly eventful decade", taking the form of a walk back through time which allows visitors a chance to experience a typical house in 1970s Leeds.
Featuring colourful - some might say questionable - wallpaper and fashions, the house contains items which anyone who lived through the 1970s will recognise immediately, right down to the lime-green fitted kitchen units and the blue Raleigh Chopper bike in the garden shed.
'Influential decade'
Helen Langwick, Leeds City Museum's curator of exhibitions, said putting the collection together had been an eye-opening experience.
"To me, the 1970s were all about bad wallpaper and terrible clothes, but since doing this exhibition I can tell you that it was so much more than that," she said.
"It was a very influential decade, not just in terms of music and film. It was a very interesting and turbulent period for politics and it is very relevant today."
The lime-coloured kitchen in the 1970s house at Leeds City Museum is where the gap between then and now is perhaps most obvious.
Ms Langwick said: "This was taken out of somebody's house just before Christmas so they were using it right up until the end of last year.
"It's very retro and actually quite cool. Everyone might like to have this kitchen now, I think.
"It's not very sophisticated but, for the time, this had all mod cons like a meat slicer and a pull-out table - pretty swanky for the 1970s."
Life in Leeds during the decade is also seen through the camera lens.
Ms Langwick said an appeal for 1970s photographs from people in the city had yielded some "fantastic" shots.
"A picture tells a thousand words, they say. We've got a range here from wedding photos to students at their new universities," she said.
"We've also got a fantastic picture of a lady drinking out of the FA Cup because, of course, Leeds United won the FA Cup in 1972."
From the Queen's Silver Jubilee - another echo from the past which is reflected in this year's Diamond Jubilee celebrations - to money worries with the start of decimalisation, the Silver 70s exhibition at Leeds City Museum shows that life in that decade and life in 2012 is not really greatly different.
Ms Langwick said: "We're very keen on the 1970s at the moment because history is repeating itself."