Male street dancers cheer on Leeds Rhinos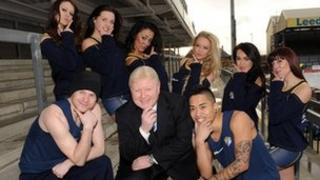 Male street dancers are to entertain rugby league fans after Super League champions Leeds Rhinos recruited them for its matchday cheerleading team.
The club says it is the first in England to appoint male dancers on a permanent basis.
The Leeds Rhinos Dance Team, which now has 16 female and six male dancers, has been supporting the team since 1997.
A Rhinos spokeswoman said the male dancers would make the club "stand out from the crowd".
Abigail Furniss said: "We are always looking to improve and enhance our matchday entertainment package for our supporters.
"Dance has become extremely popular in recent years with girls and boys thanks to groups like Diversity on Britain's Got Talent and televisions programmes dedicated to dance.
"The new guys in the team will bring their experience of street dance to our own dance team and we can't wait to see them perform at Headingley Carnegie."