Sister of drink-drive victim Jamie Still wants law change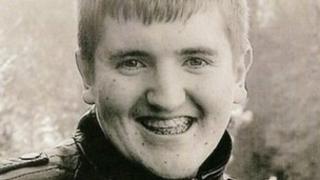 A 13-year-old girl whose brother was killed by a drink-driver is calling on the government to toughen the law on people charged with the offence.
Rebecca Still, from Otley, West Yorkshire, said it was wrong that her brother Jamie's killer could go on driving for months before his trial.
She said anyone charged with drinking and driving should immediately have their licence taken away from them.
Rebecca has set up an online petition calling for the law to be changed.
Law is 'stupid'
She said: "If the law is stricter, hopefully no-one will get into a car while drinking.
"No-one else will have to lose a friend, a brother or a son."
Rebecca's brother, Jamie, 16, died in Otley on New Year's Eve 2010 after being hit by a car driven by Max McRae.
McRae, 21, of Warren Lane, Arthington, Leeds, was almost twice the legal alcohol limit and was jailed for four years in September 2011.
The 13-year-old said the law as it stood was "stupid" and she hoped to collect 100,000 signatures on her e-petition which could spark a debate in Parliament.
Karen Strong, Rebecca's mother, said she was "absolutely gobsmacked" by her daughter's efforts.
Mrs Strong said it was vital the law was changed.
MP's support
"If he [McRae] had been stopped for drink-driving on New Year's Eve he would have lost his driving licence straight away," she said.
"Because he killed someone it took longer to go to court and therefore he was at liberty to drive."
Mrs Strong's local MP Liberal Democrat Greg Mulholland said he supported the aims of the online petition.
"In the case of this particular kind of serious offence, where someone has lost their life through drink-driving or driving under the influence of drugs, it frankly seems common sense that they should not be allowed to drive until the case has been heard," he said.