Husband of Debbie Purdy told 'quit work' for benefits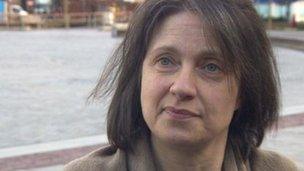 A woman with multiple sclerosis who is being prosecuted for not paying council tax says her husband has been told they would be better off if he quit work.
Debbie Purdy said they had been told by the benefits office five times that they would get more benefits if her music teacher husband stopped working.
Ms Purdy, who is from Bradford, said she had to choose between the tax and food.
The government said it was not able to comment on individual cases.
Right-to-die campaigner Ms Purdy receives disability living allowance and incapacity benefit. She said if her husband was unemployed they would get further benefits including free council tax, free prescriptions and help paying the interest on their mortgage.
Ms Purdy was summoned to Bradford Magistrates' Court on Wednesday. Her case was deferred while she sought further advice from the Citizens' Advice Bureau.
She said: "I haven't got any money to pay a bit of the council tax. If we pay a bit of the council tax then we just don't eat.
"I'm terrified of going to court but I'm excited that maybe somebody will listen. The welfare state is not doing what it was supposed to and maybe we have an opportunity to make our voices heard.
"Five different people in the benefits office have said he should stop working and that seems ridiculous. Surely everything that the government is telling us is that work should pay."
The Department for Work and Pensions said it did not comment on individual cases but that planned reforms of the welfare system would benefit people such as Ms Purdy.
Related Internet Links
The BBC is not responsible for the content of external sites.