Army medics will not be used at Pontefract A&E unit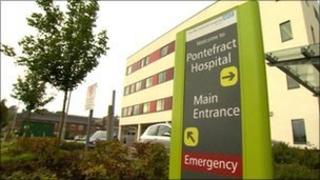 A proposal to bring in Army medics to cover a shortage of doctors has been ruled out by an NHS trust.
The A&E unit in Pontefract, run by Mid Yorkshire Hospitals NHS Trust, has been closed overnight since 1 November.
The trust said there was "no question" of military doctors in the department.
News of the proposal had drawn criticism from patients and MPs including Yvette Cooper, shadow home secretary and Labour MP for Pontefract and Castleford.
Ms Cooper said the suggestion of using Army medics was "deeply worrying".
Find a solution
In a statement, the trust said "very early stage" conversations about using Army doctors had taken place but had not lead anywhere.
The Pontefract A&E department will continue to be open only between 08:00 and 22:00.
The trust said local people had made it very clear they wanted the department to fully reopen and the trust's willingness to consider "out of the ordinary" ideas was evidence of a desire to find a solution.
Ms Cooper previously said 12,000 people had signed a petition to get the unit reopened fully.
The trust said it would open at night as soon as enough doctors could be recruited to staff it safely.