West Yorkshire man takes part in stem cell eye trial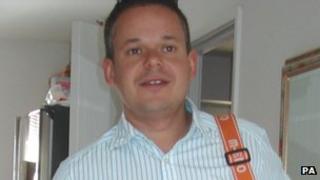 A man from West Yorkshire has become the first person in Europe to take part in an embryonic stem cell trial to treat a rare eye disease.
Marcus Hilton, 34, from Wakefield, suffers from Stargardt's macular dystrophy (SMD), which causes progressive sight loss.
The disease develops in childhood and affects about one in 10,000 people.
Mr Hilton is the first of 12 patients to be injected with retinal pigment epithelial (RPE) cells into the eyes.
The 34-year-old, who runs two bars in Wakefield, said he was "thrilled" and "excited" to be taking part in the trial.
"I'm over the moon, they have had early results in America showing this treatment could work," he said.
"It could change many people's lives - to have some sight restored would be a dream come true."
Mr Hilton said he was hopeful he could eventually have some sight restored, which would enable him to read books with his four-year-old daughter.
SMD is a hereditary disease that causes loss of central vision.
Mr Hilton's condition was picked up at school when he was seven years old, but the diagnosis was not confirmed until three years later.
"I was aged about 10 when it was diagnosed by specialists at Moorfields," he said.
"Besides being unable to drive, having the disease has an impact and I have had to engineer my life around it.
"I would never read out of choice because it is too much like hard work."
'Assess impact'
Mr Hilton was injected with the RPE cells during a 90-minute operation at Moorfields Eye Hospital in London on Friday.
"I was put under anaesthetic and they made a small hole in the front of my right eye to inject the stem cells," he said.
"At the moment, because it was only done a few days ago, everything is very blurred."
Although it will be years before the treatment is proven, early results from the US suggest the method is safe and could lead to a suitable therapy.
Professor James Bainbridge, who is a consultant surgeon at Moorfields Eye Hospital, led the operation.
He said: "We are very pleased that the first transplant surgery has gone smoothly and look forward to seeing the results as the trial progresses over the next two years.
"While this is primarily a safety trial, we will have the opportunity to monitor engraftment of retinal cells and to assess any impact on sight."