Leeds' Chinese new year toast ahead of China Olympic team arrival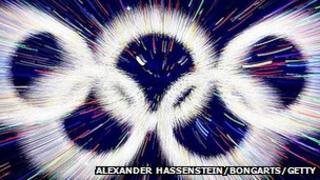 Members of Leeds' Chinese community have reason for a double celebration as the Year of the Dragon dawns on 23 January.
Not only will there be the usual festivities to mark the start of a new year, but excitement is also growing with the knowledge that the entire Chinese Olympic team will descend on the city in almost exactly six months time.
About 300 athletes, coaches and support staff representing China in at least 11 sports will be based in Leeds as they acclimatise to conditions as they prepare for the London 2012 games.
'Big party'
"Everybody is so honoured," said Man Chiu Leung, director and secretary of the Leeds Chinese Cultural Association (LCCA).
"Any nation picking Leeds as a training base is an honour. But China picking Leeds as a venue is even more exciting."
Mr Leung said a "big party" was being planned for Leeds to welcome the Olympic team - though details have not been revealed yet.
The athletes coming to Leeds will represent China in mountain biking, fencing, modern pentathlon, athletics, swimming, women's water polo, women's handball, women's hockey, table tennis, boxing and taekwondo.
Mo Chan, a member of the LCCA, said she had high hopes for the Chinese Olympic team at the games.
"They are very well known to achieve gold medals, like in the 2008 Chinese Olympics where they got lots and lots of gold medals," she said.
"Chinese people here feel very excited and happy they are coming here. It's a privilege to have them here."
And Mrs Chan said the Chinese Olympic team being based in Leeds could also prove a boost to the city.
"It's very good because Leeds will get more business from the Chinese athletes coming here," she said.
Mrs Chan said she hoped members of the Chinese table tennis team would visit the LCCA in Leeds city centre during their stay to give a demonstration of their skills.
'Good year'
Kam Pui Chan, another member of the LCCA, said the Year of the Dragon would prove an exciting one for members of Leeds' estimated 5,000-strong Chinese community thanks to the Olympics.
"I'm very happy and I welcome that they have chosen Leeds as their training centre," said Mr Chan.
"It's good for Leeds. The fact that the Olympic team have come here from China will mean more people will come to Leeds."
With a few months still to wait before the big Olympic party commences in Leeds, Mr Leung said celebrations for the Chinese new year would fire the starting pistol on a year to remember.
However, he said there were "two schools of thought" about what the Year of the Dragon actually meant.
"One is that it's bad news and it'll be a lousy year with disasters, natural disasters," he said.
"The other is that it should be a good year and a prosperous one.
"I'm waiting with bated breath."