Bradford charity reports homelessness increase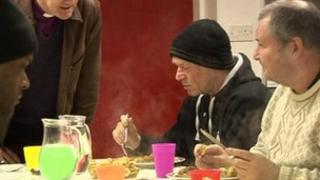 A homeless project in West Yorkshire said it is dealing with an increase in people needing its services.
The Bradford Inn Churches project provides a bed, food and support to people sleeping rough on the city's streets.
According to government figures, the number of homeless households in West Yorkshire has risen by 20% over the past two years.
The project co-ordinator said the figures excluded the "hidden homeless".
The scheme, run by volunteers from over 60 local churches and mosques, provides accommodation for 12 people.
'Sofa surfing'
The project co-ordinator, Juli Thompson, said the centre had been full since it opened in December. The centre operates for three months over the winter period.
Ms Thompson said: "A lot of people are sofa surfing, so are classed as hidden homeless.
"A few of our guests have experienced quite recent homelessness, due to the fact they have either lost their jobs or their tenancies."
The latest statistics from the Department for Communities and Local Government show the number of homeless households in West Yorkshire rose from 290 to 347 between 2009 and 2011.
The Bishop of Bradford, the Right Reverend Nick Baines, said the project was providing practical support as well as hope.
"When you see some of the people who are on the street and you realise that very quickly their worlds fell apart.
"Some people are just like you and me, and something goes wrong and it's all gone."