Warning against 999 emergency number abuse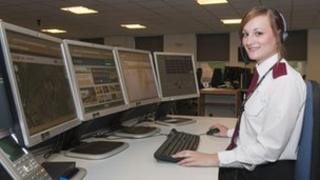 West Yorkshire Police have warned against abuse of the 999 emergency number after a spate of recent time-wasting calls.
In December one man called 999 to report a fight between two EastEnders characters on the BBC TV programme.
A woman also asked police to pass her number on to film star Mark Wahlberg.
In one hour in the early morning of 27 December the force said it took a "relentless and unprecedented" 203 calls to the 999 number.
Other spurious calls to West Yorkshire Police included people asking for the time, singing to operators or playing music down the line.
The police have also asked people to dial 101 when making non-emergency calls to officers.
The 101 number is now being used by all police forces across England and Wales for non-emergency calls.
The old 0845 number for non-emergencies will be switched off soon.
Assistant Chief Constable Mark Milsom said: "We are still receiving calls to the old number.
"When this number is switched off it is likely that calls will not get through to operators."