Effort to return Bronte authenticity to Haworth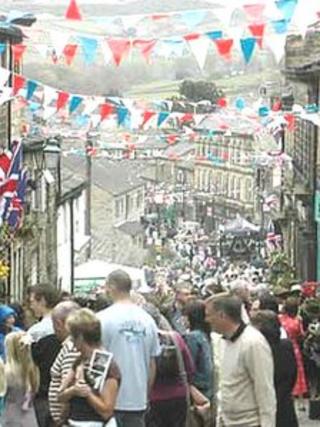 Businesses in the village made famous by the Bronte sisters are being asked to suggest how it could be made a more "authentic" experience for visitors.
English Heritage and Bradford Council are offering grants to recreate "lost" historical features along Main Street in Haworth, West Yorkshire.
In 2010, English Heritage claimed Haworth's traditional character was being eroded by gradual minor changes.
The organisation is offering grants of up to 80% to help selected projects.
English Heritage and Bradford Council have sent out letters to business owners along Main Street, Haworth, inviting them to suggest ideas to enhance their shops.
Historically accurate details such as traditional shop fronts and sash windows could be reintroduced, Bradford Council said.
English Heritage regional director Trevor Mitchell said: "A restored shop on Haworth Main Street will be more attractive to customers and tenants which, in turn, will lead to increased business revenue.
"This project will benefit everyone involved and should result in some exemplary showcase designs for the village."
New street furniture, including seats and signposts, was already in place, and natural stone paving and footpaths had been repaired on Main Street, Bradford Council said.
Councillor David Green, executive member for regeneration and economy, said Haworth was a "special place".
"Improving the look of the village will make it even more attractive to visitors and locals alike," he said.