Archbishop of York bemoans youth unemployment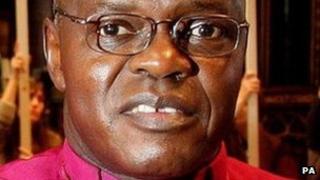 High youth unemployment and slow reforms to care for the elderly are "a blight on our nation's conscience", the Archbishop of York has said.
Dr John Sentamu chose the issues as examples of what had been "a difficult year for many of us" as he delivered BBC Radio 4's Thought for the Day.
He urged people to "recover genuine support" for others in need through volunteering and helping charities.
"2011 has been a difficult year for many of us," he said.
The senior cleric said the UK had "faced many challenges assailing us on all fronts".
"This has left many people worried about the future," Dr Sentamu added.
'Invincible goodwill'
"Sadly, we are ending the year with a blight on our nation's conscience: a million unemployed young people and the snail's pace towards finding a long-term solution for the social welfare of older people."
He said he hoped the New Year would usher in "a rediscovery of the Christian virtue of hope, coupled with faith and love" and a search for "an invincible goodwill towards others, no matter who they are or what they do to us".
"As a country, may we recover genuine support of others in practical ways," he said - citing the example of his own charity Acts 435 paying for an elderly woman to put her heating back on.
"No matter who we are, the one thing we can give is ourselves, selflessly. Every individual has the ability to transform and change and that is true of us collectively, as a nation."
"So let's take the opportunity the New Year gives us to become what we all could be."