Bronte church at Haworth in urgent appeal for cash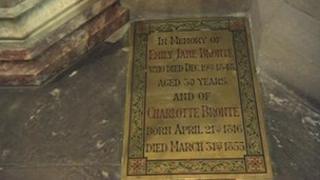 The church where the sisters Charlotte and Emily Bronte are buried has only three weeks to raise £37,000 towards the cost of roof repairs.
St Michael and All Angels Parish Church at Haworth, West Yorkshire needs the money to secure £100,000 in funding from English Heritage.
Fundraisers said they had raised £28,000 towards the cost of repairs, but needed to hit a total of £65,000.
The church said it might have to consider taking out a short-term loan.
The roof of the church is badly damaged and water has now damaged the original wall paintings.
The church has also been targeted by lead thieves three times in the last 18 months.
John Huxley, secretary at Haworth church, said: "We are looking at plan B and plan C. We are even thinking about taking a short-term loan.
"We will have to talk with the funders to see what the options are."
The Bronte family came to Haworth in 1820 and the church, where Charlotte and Emily were buried, attracts thousands of visitors a year.