Couple missing with two children from Leeds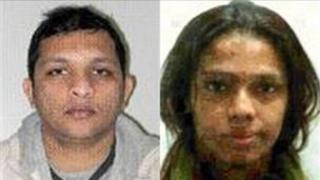 Ports and airports are on alert for a couple who have gone missing with two young children in Leeds.
Sri Lankan nationals Mohammed Fayzed and Shikiri Wahab, who may also go by the name Fatima Shikiri Wahab Aftab, are both 30 years old.
West Yorkshire Police said the couple had broken a court order by taking the youngsters from a supervised visit.
A girl and boy, aged nine and two, were taken from an address on Roundhay Road, Leeds, on Thursday afternoon.
Police said the children were taken from the Clifford Brooke Centre.
Addresses searched
As the children's escort was paying a taxi fare, they were taken by the couple who made off on foot at about 15:10 GMT towards Spencer Place, police said.
A number of addresses across the West Yorkshire area have been searched overnight and police are now looking into connections the pair are believed to have in the Middlesbrough area.
Police believe the pair are still in the UK.
At the time the children were taken the young boy was wearing a beige hat, blue jacket and Adidas trainers. The girl was dressed in a black cardigan and skirt.
Mr Fayzed was dressed in blue jeans, a light blue sweater and a dark, khaki-coloured jacket. He was also wearing white trainers with black markings on the toes.
Ms Wahab was described as wearing black, knee-high boots with purple leggings and a floaty, floral-patterned dress. She was also wearing a dark-coloured cardigan and a peach-coloured head scarf.
Det Supt Sukhbir Singh, from the West Yorkshire Police Homicide and Major Enquiry Team, said: "Our priority is the safety of the children and I would ask the public to look at the pictures and get in touch with us if they have any information.
"If Mohammed or Wahab hear this appeal I would urge them to contact us as a matter of urgency; we can help you but you need to speak to us."