Pudsey deaths toddler stabbed in neck, inquest hears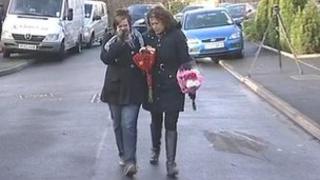 A toddler found dead with his mother, father and brother had been stabbed in the neck, a coroner has said.
Aaron Smith, 13 months old, was attacked with his mother Clair Smith, 36, and his brother Ben, nine, at their home in Pudsey, Leeds, two weeks ago.
The children's father Richard Smith, 37, died after inhaling smoke after a bedroom was set alight.
Leeds Coroner David Hinchliff opened and adjourned inquests into all four deaths at a hearing on Thursday.
He confirmed Aaron had died from a stab wound to the neck which severed the carotid artery and jugular vein.
Mr Hinchliff said the boy's brother died from suffocation due to the obstruction of his airway and smoke inhalation. Police have said Ben was also stabbed.
Mrs Smith died from a stab wound to the chest and "external compression to the neck".
The court heard Richard Smith died from the effects of smoke inhalation.
West Yorkshire Police are not looking for anyone else over the deaths.
Christmas party
The police officer leading the investigation, Det Supt Paul Taylor, told the inquest no further tests on the bodies were needed and Mr Hinchliff ruled they could be released for funerals to take place.
Mr Hinchliff adjourned the inquests to a date to be fixed.
Police have said the family were last seen at 23:00 GMT on Friday, 9 December, when they left a Christmas party at Pudsey St Lawrence Cricket Club by taxi.
Ben's advent calendar was not opened on the Saturday so officers believe something happened overnight or in the early hours of the Saturday.
Officers confirmed there had been no reports of any unusual incidents at the function.
The family was found dead after concerned neighbours called at the house, followed soon after by police officers.
Smith worked as a quantity estimator at a shopfitting firm and was a coach for a local football club. Mrs Smith was an accounts manager.
Relatives said the family appeared to have no problems and could not understand what had happened.