Copper thieves target empty West Yorkshire mills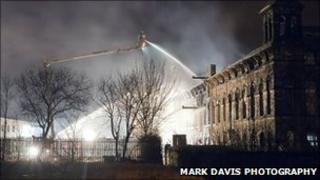 Firefighters are taking action to stop metal thieves destroying West Yorkshire's industrial heritage.
Over three years more than 80 mills in the county have been damaged in fires. Of those, 60 were started deliberately.
The fire service said metal thieves were starting blazes in derelict buildings to reveal copper cabling which they then sell as scrap metal.
The work comes as crews tackled two fires at separate mills in Bradford in the last week.
A blaze broke out in a commercial building in Thornton Road on Christmas Eve and at a derelict mill in Factory Street in the early hours of Wednesday.
Investigations are under way into the cause of both incidents.
The fire service arson taskforce is identifying mills it thinks are at risk and working with owners to make them more secure.
Mills demolished
Chris Clarke, from West Yorkshire fire service, said: "The thieves are after the copper so they will burn off the insulation, just leaving the bare copper which then is available to be weighed in for scrap.
"So the actual act of burning off the insulation can cause fire to spread in the rest of the building."
Dalton Mills in Keighley was partly destroyed by a deliberate fire in January.
The fire service believes the blaze was caused by thieves looking for copper.
Martin Whiteley, managing director of Magna Holdings, which is renovating the mill, said he knew of thieves using wheelie bins to transport stolen cabling.
He said: "But we have now a better understanding of how they are operating and we are working closely with the police and our tenants."
Hundreds of mills across West Yorkshire stand empty and after a fire they are often pulled down.