Pontefract A&E closure: 'Answers and action' call by MPs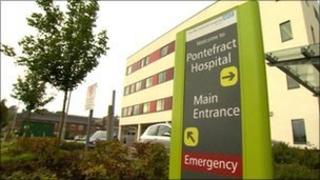 MPs are calling for "answers and an action plan" over the temporary overnight closure of the A&E department at a West Yorkshire hospital.
Four local MPs will meet Mid Yorkshire Hospitals NHS Trust later to discuss the A&E closure from 22:00 to 08:00 each night at Pontefract Hospital.
The closure, which began on 1 November, is being blamed on staff shortages.
Yvette Cooper, MP for Pontefract and Castleford, said local residents were "furious" at the closure.
Mid Yorkshire Hospitals NHS Trust said the decision to close the A&E department at Pontefract was made "purely on patient safety grounds" and was only a temporary measure.
The trust said an overnight closure at Pontefract would affect fewer patients than it would at the nearby Pinderfields and Dewsbury hospitals.
'Outside support'
MPs Yvette Cooper, Ed Balls, Mary Creagh and Jon Trickett are expected to call on members of the trust board to explain what is being done to remedy the situation.
Ms Cooper said: "We need some answers and we need an action plan from the trust.
"We need to know what they are doing to get the A&E opened again. It is now six weeks since it closed and they told us it was temporary."
Ms Cooper added that she wanted to see "outside support" brought in to offer independent advice and expertise to the trust board .
Mid Yorkshire Hospitals NHS Trust said a "senior, independent doctor" had agreed to review the factors which led to the cut in hours at Pontefract A&E.
The trust said the doctor would consider if anything else could be done to extend the department's opening hours once again.