Bringing brewing back to Ilkley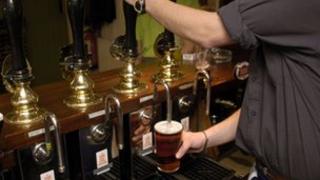 West Yorkshire already has more breweries than any other county in the UK. But what does it take to start from scratch and join in the county's brewing revolution?
Stewart Ross, director of the Ilkley Brewery, said the closure of a local giant had encouraged smaller breweries to set up.
He said he believed the demise of the Tetley's factory in June got more people switching their usual tipple to new local brews.
Mr Ross said he originally set up his venture in 2009 to "bring brewing back to Ilkley".
Although the town had previously housed an independent brewery, founded in 1873, it was later taken over in 1920.
"We knew we could have a good brand, the town of Ilkley is known because of the song - Ilkla Moor Baht 'At," he added.
Mr Ross and co-founder Chris Ives together invested £60,000 into the new operation and went on a three-day brewery course.
Mr Ross and Mr Ives both previously worked in the property industry.
They commissioned some kit and found their first premises.
Initial enthusiasm was tempered when the first brew was not an unqualified success. Mr Ross said friends were drinking it only "through sympathy".
Originally the company was producing about 4,000 pints a week from a unit on a trading estate but a change to bigger premises has helped increase production to about 33,000 pints a week.
The brewery now employs nine staff and brews five different beers including to branches of Asda, Booths and Morrisons supermarkets.
The company turnover for 2011 is predicted to be £750,000 despite a background of economic downturn.
According to the Campaign for Real Ale (Camra), West Yorkshire already has more breweries than any other county in the UK.
Camra recently recorded 43 breweries making 276 beers in the county and said West Yorkshire had topped its annual brewing league.
But why West Yorkshire? Some of the county's brewing background is explained by geography. The water in Yorkshire has been known as good for producing beer for hundreds of years.
Samuel Smith, of Tadcaster, which was established in 1758, claims to be the oldest brewery in Yorkshire.
Mick Moss, regional director of the Campaign for Real Ale (Camra) in Yorkshire, said nobody really knew why West Yorkshire was such a hotbed of brewing.
Mr Moss said there were several factors that went towards an explanation.
West Yorkshire's industrial past meant the workers historically turned to beer when they wanted a drink.
"Fundamentally, Yorkshire is a beer drinking area," Mr Moss added.
He also believed a vacuum was created with the closure of bigger brewing concerns all tending to make similar-style "bland" beers. The gap in the market had been filled with a wider range of small breweries.
Mr Moss said: "What ever sort of beer you want, you can now find."
Yorkshire psyche
The success of these new beers also meant other would-be brewers were persuaded to have a go, leading to a snowball effect he said.
However, back at Ilkley Brewery, Mr Ross believed there was also something about brewing that is deep in the Yorkshire psyche.
"I think it is a desire to create something," he said.
"It is part of the artisan craft movement."
However, he warned that brewing involved a lot of hard, physical work like washing casks and digging out hops in often freezing conditions in the brewery.
But despite the problems, Mr Ross thinks West Yorkshire still has more to offer the current brewing boom.
"The micro-breweries can produce a different character of beer that appeals to the tastebuds. The numbers in this new wave of small breweries are still on the way up."
Mr Ross also sees a growing market for the county's beers, he believes a new generation of 18 to 25-year-olds are beginning to try real ale.
And he has a theory for this development: "Perhaps that generation's dads were lager drinkers and they are rebelling."