New routes to get Leeds cycling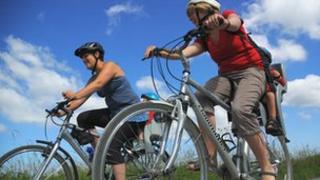 The latest section of cycle route in Leeds, the Wyke Beck Way, has opened.
The newest route, the fourth in the city to fully open, connects Roundhay Park to Temple Newsam.
Eventually a network is planned that will link 17 routes and cover 71 miles across Leeds.
Currently Alwoodley, Meanwood, Stainbeck and Little London are linked by a cycle route to the city centre.
Another route goes through Hyde Park and Headingley, with its large student population, and passes two university campuses into the city centre.
A southern route goes from Middleton into Leeds.
The network is based on a combination of cycle lanes, tracks, quiet roads and improved junctions on busier roads.
The routes are developed between Leeds City Council and national cycling charity Sustrans.
David Hall, the Yorkshire regional director for Sustrans, is charged with getting more people to use a bike for short and regular journeys.
Not a 'fundamentalist'
He lives in Leeds, and has worked with the organisation since 1994.
Mr Hall said he was not a "fundamentalist" about using a bike and he did take car or taxi journeys, but his message was: "If the journey is easy, and safe, and it is cheap - then do it by bike."
"Try it, you don't have to go far," he said.
Sustrans encourages people to travel by foot, bike or public transport for more of their daily journeys.
He said it was rare for people to suddenly start cycling but the best way to take up regular cycling was to use a bike for leisure first.
"After a while people often say 'this is easier than I thought, I am travelling distances I didn't think possible and it keeps me fit'", he added.
Mr Hall has been conscious of more cyclists beginning to use the same route he uses to commute from north Leeds.
"I think it is an age where commuting by bike is fashionable," he declared.
"A few years ago people looked down on somebody who commuted by bike, now they often seem envious of the same cyclist."
He said the key point to get more participation was to make cycle routes as safe as possible, and then the "$64,000 question" was whether to use more "carrot or stick" to get people on bikes.
According to Sustrans the National Cycle Network runs within two miles of 75% of the UK population.